The Cricut Image Library contains over 100,000 images, with more being added all the time. You don't need to own an image to try it out - Design Space allows you to design with an image before you buy so you can make sure it will work on the project. Additionally, you can upload your own images and cut them out with your Cricut machine.
Note: Available images may vary by region based on image licensing agreements.
Sign in to Design Space and create a new project.
Click Images on the left side of the design screen for Windows/Mac computer, or tap the Image button at the bottom left corner of the screen in the iOS/Android App.
Here you can browse, search, and filter images as needed.





All Images - View featured images or search for a specific image from the entire Cricut library.
Categories - Browse for images by selecting one of the image categories.
Cartridges - Peruse an alphabetical list of over 400 Cricut cartridges (image sets) or search for a specific one.

You can select multiple images and insert them into your project at the same time.
Once the images are inserted, you can edit them as required for your project. The bounding box is the box that appears around your text when it is selected. Each corner of the bounding box allows you to make a quick edit.

Top left — delete the image
Top right — rotate the image
Bottom left — lock/unlock the image proportions
Bottom right — size the image

Overview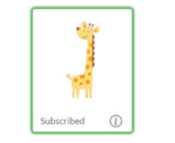 Image Tile - Preview of the image.

Information - Click the information button to see the name of the image, your level of access (e.g., owned, subscribed, free, or available for purchase), the image number, the cartridge (image set) it belongs to (if available). Return to the image view by clicking the information button again.

Enhanced Printable Images – Images that are designed with decorative patterns and are ready to print then cut.

Cricut Access Content - The image is included in Cricut Access. This symbol will appear whether or not you have an active Cricut Access plan.