Edited: December 1, 2023
New Cricut machines purchased from authorized sellers come with a specified period of warranty from the date of purchase. Select your product below to view the warranty information. 
Cutting machines
Heat Presses
Lighting
Other
Note: Cricut Materials and Accessories do not come with a warranty. However, if you experience any difficulties with your item(s), please contact Member Care for assistance.
All Cricut machines already include a manufacturer's warranty which guarantees the machine against defects in materials and workmanship for one (1) year from date of purchase. For details, view Cricut Warranty documents here.
Cricut has now exclusively partnered with Extend™ to offer additional machine protection plans in either a 2 or 3-year term. These plans both offer the same type of great coverage which includes protection from product failure after the 1-year Cricut warranty expires. In addition, and different from the existing Cricut warranty, Extend™ also provides coverage from date of protection plan purchase for accidental damage to your machine, such as a drop, break, or spill.
Note: At this time, Extend Protection Plans are available for purchase on Cricut.com in the United States only, as an add-on to a machine purchase.
Who to contact
The Cricut Member Care team stands ready to help you troubleshoot any issue you may experience with your Cricut product. In the event that your machine becomes unusable, whether due to electrical or mechanical failure, or due to accidental damage, view the information below to understand who to contact for a replacement.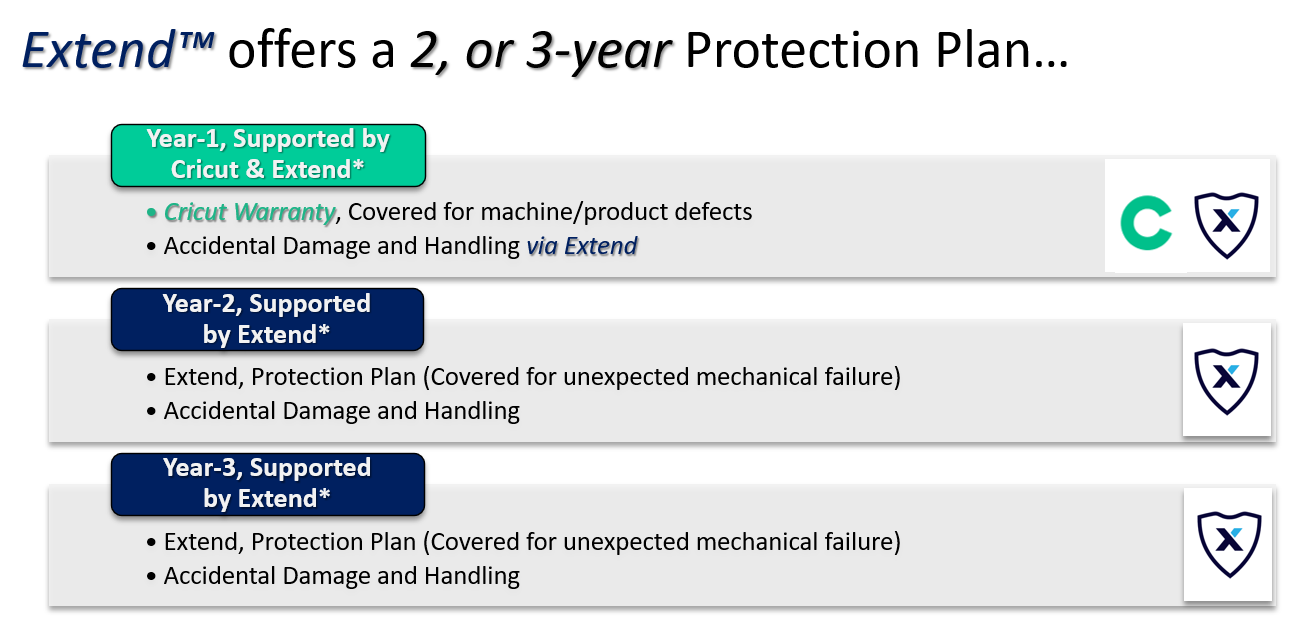 FAQ
What is an Extend™ Accidental Damage from Handling (ADH) Protection Plan?
The Extend ADH Protection Plan begins at the time the customer purchases the product and lasts for the duration of the term it was purchased for. The ADH plan covers damage caused by accidents such as drops, breaks, and spills.
If the ADH protection plan lasts longer than the manufacturer's warranty, the ADH plan will also cover mechanical and electrical failure, just like a regular extended warranty plan, once the manufacturer's warranty has expired.
How many times can I use the Extend ADH Protection Plan?
The Extend ADH Protection Plan is a single replacement program that allows for a 1-time replacement of a like or comparable product should it become defective under ADH conditions.
How does a customer purchase an Extend ADH Protection Plan?
An ADH protection plan can be purchased through the participating merchant online.
What are the customer benefits of an Extend ADH Protection Plan?
Extend provides peace of mind and financial protection should there be an accident with your product, such as a drop, break, or spill. Additionally, when the manufacturer's warranty expires, the Extend ADH plan will continue to cover accidental damage as well as product failure due to mechanical or electrical failure, should that be applicable. Extend is a reliable service that makes purchasing and filing claims on protection plans easy through an easy-to-use online portal and a great customer experience team.
What products are covered?
The Extend team works with our partner merchants to identify all eligible products and match them to a warranty plan.
What do I need when I need to utilize my Extend ADH Protection Plan?
Please have your contract ID or email address handy in order to file a claim through the Extend Customer Claims Portal or by contacting Extend's Customer Care Team at 877-248-7707.
If you contact the merchant directly to file the claim, you may be warmly transferred to Extend via phone at 877-248-7707 or may receive assistance to file the claim on your behalf through the Extend Customer Claims Portal.
Where is my contract ID?
Customers will receive an email after purchasing a protection plan that details
Contract ID
Warranty Term Length
Coverage Dates
Product Name
Please contact the Extend Customer Care Team if the Customer does not receive this email at WarrantyOps@Extend.com.
If a product covered by Extend is replaced under the MFR warranty, does the Extend plan cover the new product?
Yes, the replacement product will continue to be covered under Extend's protection plan.
What is the process to file a claim under an Extend Protection Plan?
Extend makes it easy to file a claim either through the call center or the online portal. Below are the steps the customer will go through to have their product replaced:
The customer provides a contract ID, email address, or another piece of identifying information to Extend
Extend entitles (validates) contract coverage by ensuring:

The plan is active
The date is between the Effective & Expiration Dates

The customer will then answer a few Adjudication questions
High-level troubleshooting steps are offered
Once the claim is approved, a shipping label is generated to ship back the broken product
Once the shipping label is scanned, we will work with the customer to replace the broken item
Extend will be in constant communication with the customer to ensure satisfactory service has been given
Can I cancel my Extend Protection Plan?
Yes, customers can cancel their coverage at any time.
When the customer cancels their Extend plan, what is the refund policy?
For an accidental damage and handling plan, the customer is entitled to a full refund within 60 days of purchase as long as the contract is not fulfilled. After 60 days, the customer is entitled to a pro-rata refund on the unused portion of the service contract.