These essential tools are everything you need for a Cricut crafting session.    
Scissors
Cricut Scissors have hardened stainless steel blades for durability and smooth, even cuts. The micro-tip blade gives you greater precision on all materials. A removable cover protects the blades.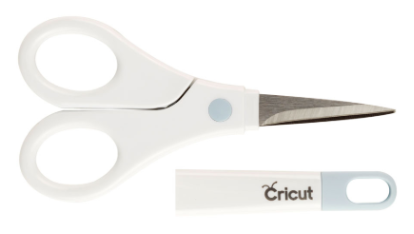 Tweezers
Cricut Tweezers lift and secure in one step with their reverse grip design - squeeze the handle together to open, and release pressure to clamp together. Smooth interior points help prevent tearing or marring your materials.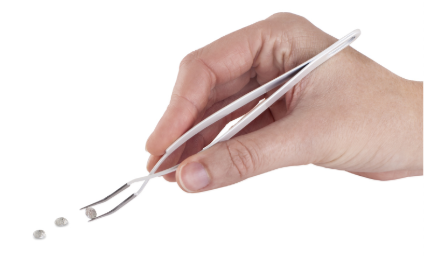 Weeder
Cricut Weeder is for "weeding," or removing negative pieces around a cut image. When working with iron-on or vinyl images, it helps you precisely remove everything that isn't part of your design from the carrier sheet. It's also great for poking out tiny negative pieces from a cut cardstock image.
Scraper/XL Scraper
Cricut Scraper is custom designed to clean unwanted scraps from the Cricut cutting mats, contributing to a longer lasting mat. It can also be used to smooth materials onto the mat or burnish materials such as vinyl to remove air bubbles or wrinkles.

Spatula
Cricut Spatula precisely lifts images from the Cricut cutting mat, preventing intricate images from tearing or curling. The angled head of the spatula allows it to slide underneath the material with ease.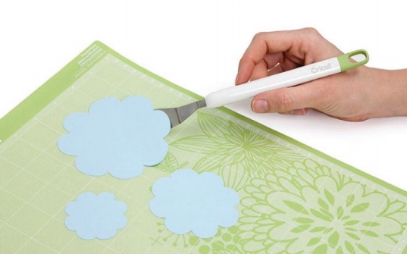 Trimmer
Cricut 12" Portable Trimmer with 15" swing-out arm helps you to precisely cut or score straight lines. Replacement blade storage compartments on the underside make fresh blades readily accessible on the go.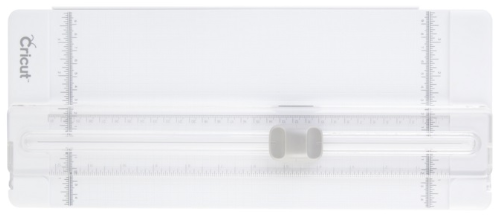 Scoring Stylus
Cricut Scoring Stylus lets you use your Cricut Explore or Cricut Maker machine to score fold lines for cards and envelopes, boxes, 3D projects, and more. The machines hold Scoring Stylus and a cutting blade at the same time, so you can cut and score in one step - without changing mats!
Note: Scoring Stylus works with Cricut Explore and Cricut Maker machines. May also be used by hand with a ruler if desired.