Design Space features Ready-to-Make projects created by professional artists. These Ready-to-Make projects include everything from home décor to fashion to paper crafting and even a variety of FREE projects. New projects are added on a regular basis. To make a project, all you need to do is gather your supplies and go.
From the Design Space Projects page, you can scroll through the hundreds of Ready-to-Make projects. To select a project category, use the Categories menu or search bar located at the top of the screen on a Windows/Mac computer, or at the top of the screen when on the Home tab in the Design Space mobile app.
Design Space - Windows/Mac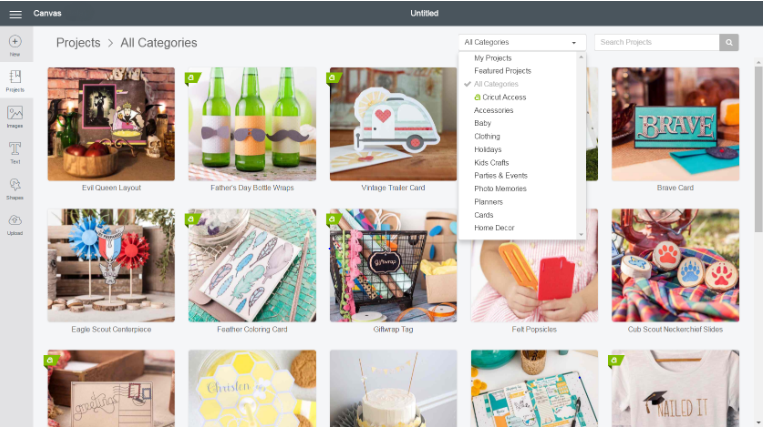 Design Space - Mobile App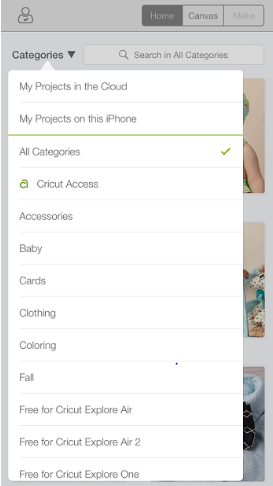 Once you click on a project that you would like to make, the project details screen will open. It lists all the details you will need to create the project, including:
Project Name
Difficulty Level
Estimated Completion Time
Materials Required
Instructions
Cost of the project (if any)
Tip: When purchasing a project, you are actually purchasing the images/fonts/patterns used in that project, and they are added to your account permanently. You will not be charged again for those resources if they are used in another project.
Creating a Ready-to-Make Project
You can create the Ready-to-Make project by clicking:
The "Make It" button - this takes you directly to the mat preview screen.
The "Customize" button - this takes you to the design screen. Adjust or add new images to the project file, as desired, click Save to save the project in your account, and then click Make It.
Note: Many of the sewing and insert card Ready-to-Make projects do not have the Customize option in order to prevent mistakes that could be made by resizing or unlocking the aspect ratio of a piece of the pattern.
Design Space - Windows/Mac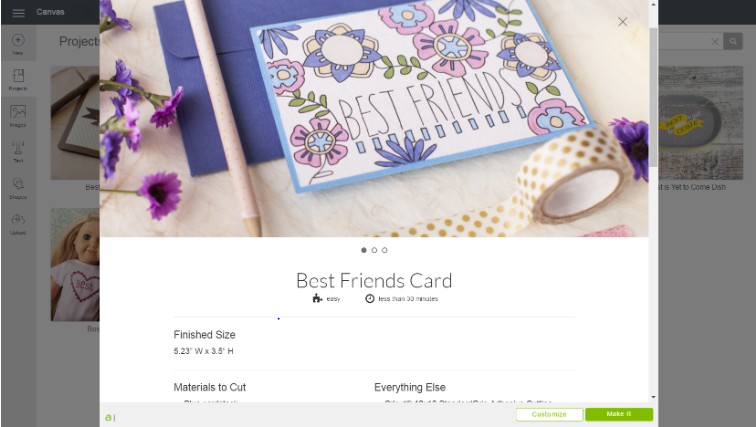 Design Space - Mobile App