Open up your artistic possibilities with Infusible Ink Freehand Markers! Choose Marker Tip, Brush Tip, or Dual-Tip! Freehand your designs on regular laser copy paper, then transfer as you would any Infusible Ink Pen/Marker design.
Note: While all Infusible Ink Pens and Markers may be used by hand, Infusible Ink Freehand Markers are manufactured for use by hand only; they will not fit into Cricut cutting machines.
Marker Tip
This 2.0 marker tip allows you to draw fine lines, but also to fill in areas of your design.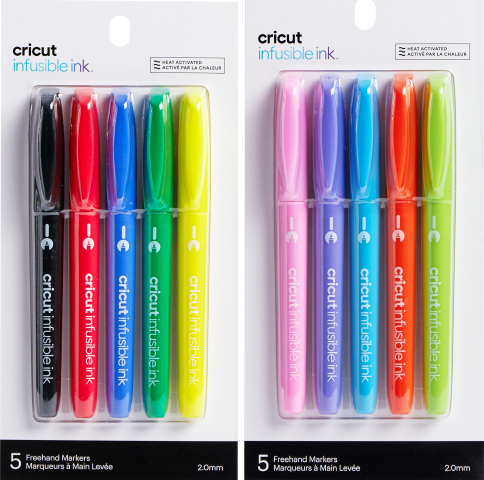 Brush Tip
Freestyle elegant art or creative calligraphy designs with the Brush Tip.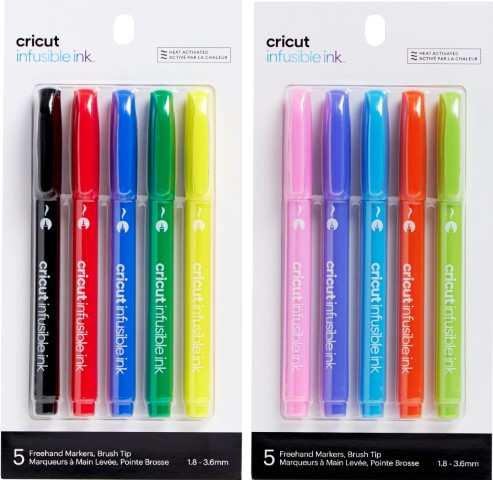 Dual-Tip
With brush tips on one end and 1.0 marker tips on the other, artistic possibilities are literally at your fingertips!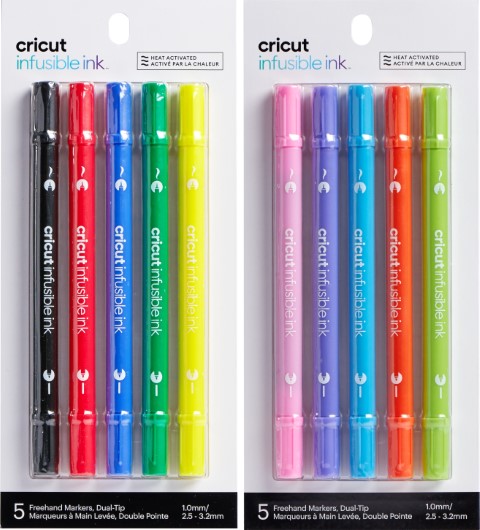 Important: If orientation is important to your design (i.e. text, or asymmetrical designs) remember to mirror your design as you draw (draw it in reverse) so that it will be properly oriented after transfer. To make this easier, lightly draw or print your design on one side of the laser copy paper, then flip the paper over on Cricut BrightPad or other light box so your design shows through as a guide for drawing it in reverse with Infusible Ink Freehand Markers.
Tips
Use the Cricut EasyPress Heat Transfer Guide for precise time and temperature settings for transferring your Infusible Ink Pen & Marker designs.
Markers with a single tip may be stored as you would any other Cricut pen or marker. Dual-Tip Markers should be stored flat to allow for optimal use of both tips.