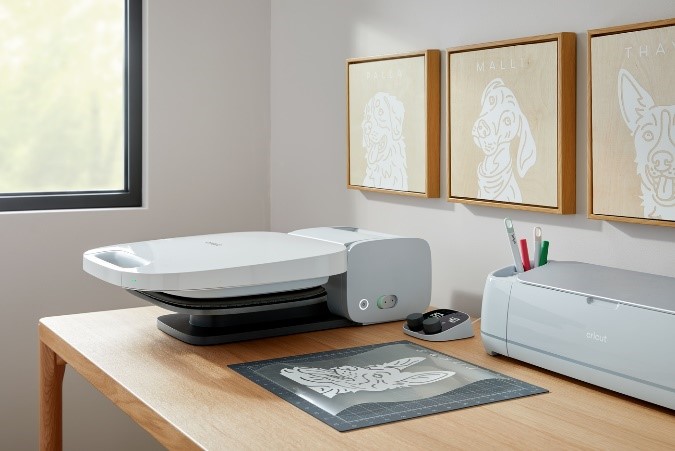 Using heat press products with wood can be challenging, because no two pieces of wood are the same. When using Cricut Autopress to apply iron-on (HTV) to wood, keep these guidelines in mind:
Wood cannot be over 2 in (5 cm) thick and should not have any type of coating or filler.
Note: Premade polished wood or wood with a finish, such as cutting boards, may not work.
Wood should be as flat as possible.
If possible, run wood through a planer or jointer to remove inconsistencies in wood surface and thickness.
Iron-on (HTV) needs to have a surface to hold onto; extremely smooth wood will make it difficult for iron-on transfers to adhere well. We recommend using a 40-grit sanding block to sand the entire surface of the wood. This will give it a consistent look and uniform texture ready for iron-on transfers.
Clean wood with a tack cloth to remove dust and debris before pressing.
Pressing Steps
Set control pod temperature to 300°F (155°C) and time to 20 seconds.
Place the wood with design taped down onto the mat/platen and cover with butcher paper.
Press the project for the full 20 seconds and wait for the machine to open.
Burnish your design onto the wood with a scraper, rotate the project 90° on the mat/platen, and cover with butcher paper.
Note: Burnishing helps push adhesive into parts of the wood that may not be flat.
Press the project for another 20 seconds.
Burnish the design with a scraper for a second time.
Note: Glue may create a halo effect around the image. This halo usually shows if the pressure and temperature are too high.
Note: Cricut EasyPress Mini or an iron may be helpful to tack iron-on image in place if the wood surface is not flat.