We are continually working to improve your experience with Text in Design Space for Desktop. With v7.11 we introduced more improvements for Text that may change how you've interacted with this feature in the past. Continue reading to learn more about working with Text in Design Space for Desktop.
Select an option below to learn more.
Adding text to Canvas
Click on the Text icon to add new text to Canvas. The word "Text" appears highlighted in a text box. When text looks like this, it is in Edit mode. Simply start typing your text to update it.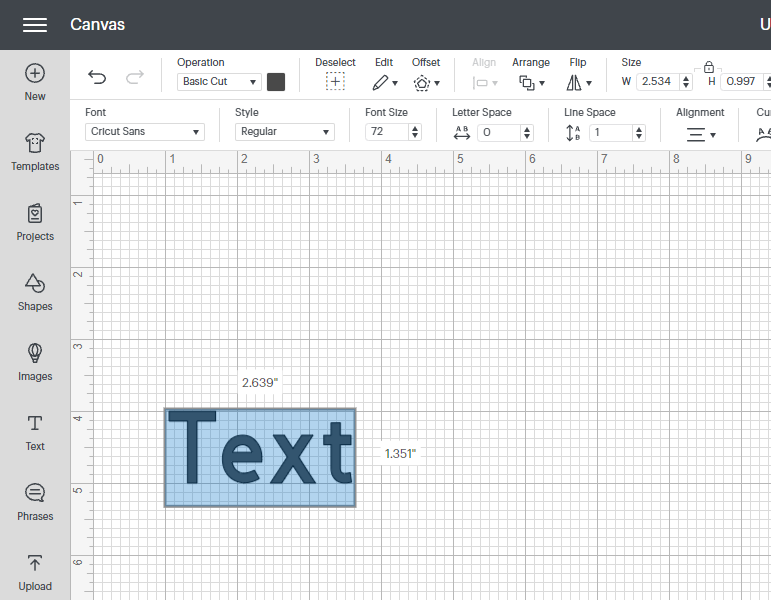 Changing text on Canvas
Anytime you click outside of the text box, you exit Edit mode, but making changes is easy!
To type new words or make corrections, double-click on your text, or right-click on your text and select Edit Text from the menu. This puts the text back in edit mode. From there, you can place your cursor where you wish and type new letters or select existing letters.




With letter(s) selected, you can cut, copy, and paste using either the functionality in the Edit menu, or by right-clicking inside the text box.



Edit menu




Right-click shortcut menu

Editing appearance of text on Canvas
Select a link to view information about the following:
Selecting a font
Use the Font dropdown to select your desired font. Use the indexes (A), search field (B), or filters (C) to find the perfect font for your project.






Select a font style – If your font has Bold, Italic, or Writing styles, you can select them from the Style dropdown.




Use the Font Size input box to change to your desired font size.


Rotating text
To rotate your text box on the Canvas you can use any bounding box corner handle or enter specific values in the Rotate input field in the Edit toolbar.
When rotating via bounding box corner handle, allow cursor to hover just outside the handle until a curved arrow appears. Then click and drag to rotate the text.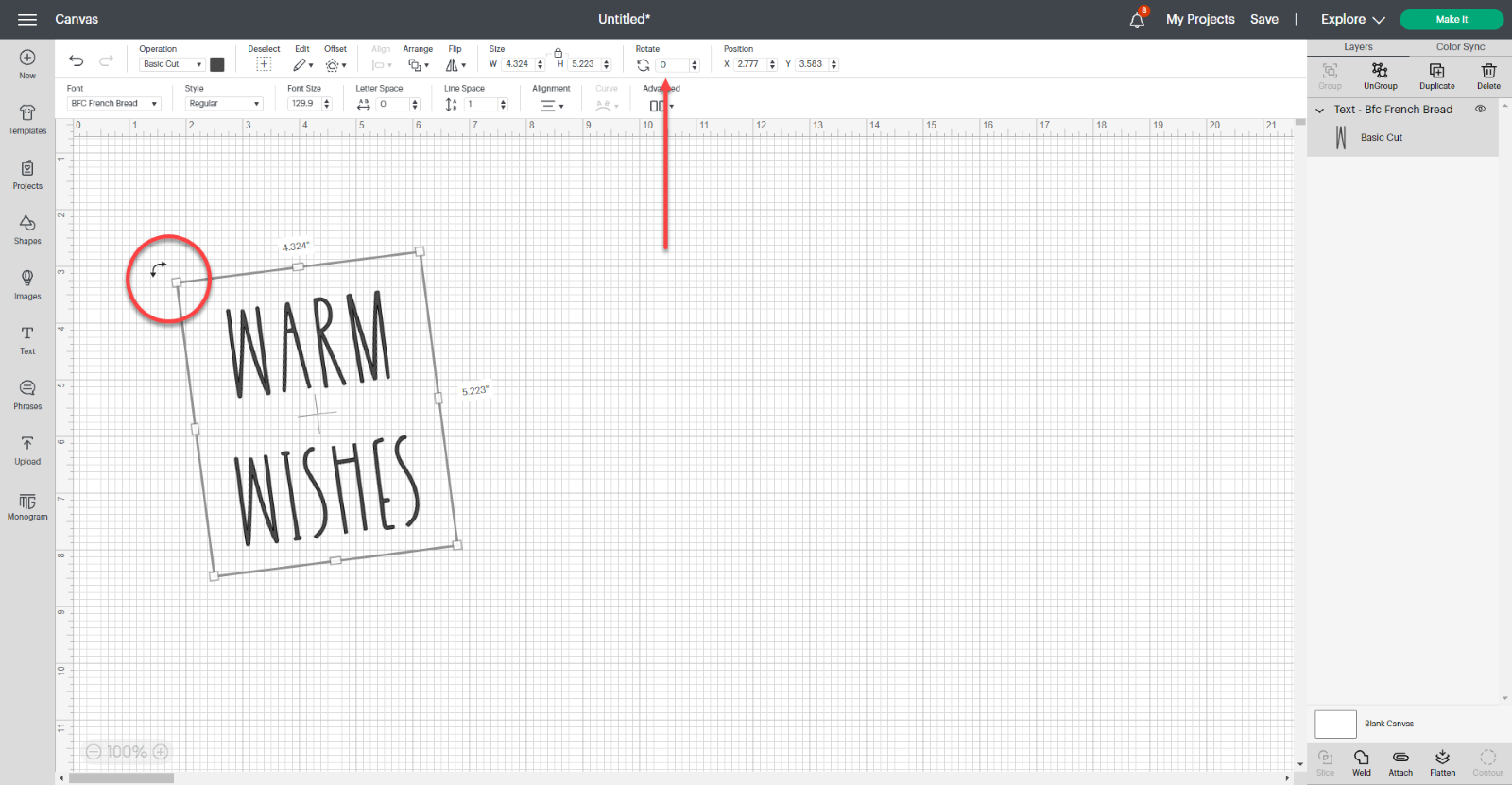 Sizing text
To resize text use any corner handle on the bounding box or enter values in the Size input fields in the Edit tool bar. To unlock proportions so you can adjust the height and width independently, click on the Lock icon between width and height fields in the Edit toolbar.
Bounding box corner handles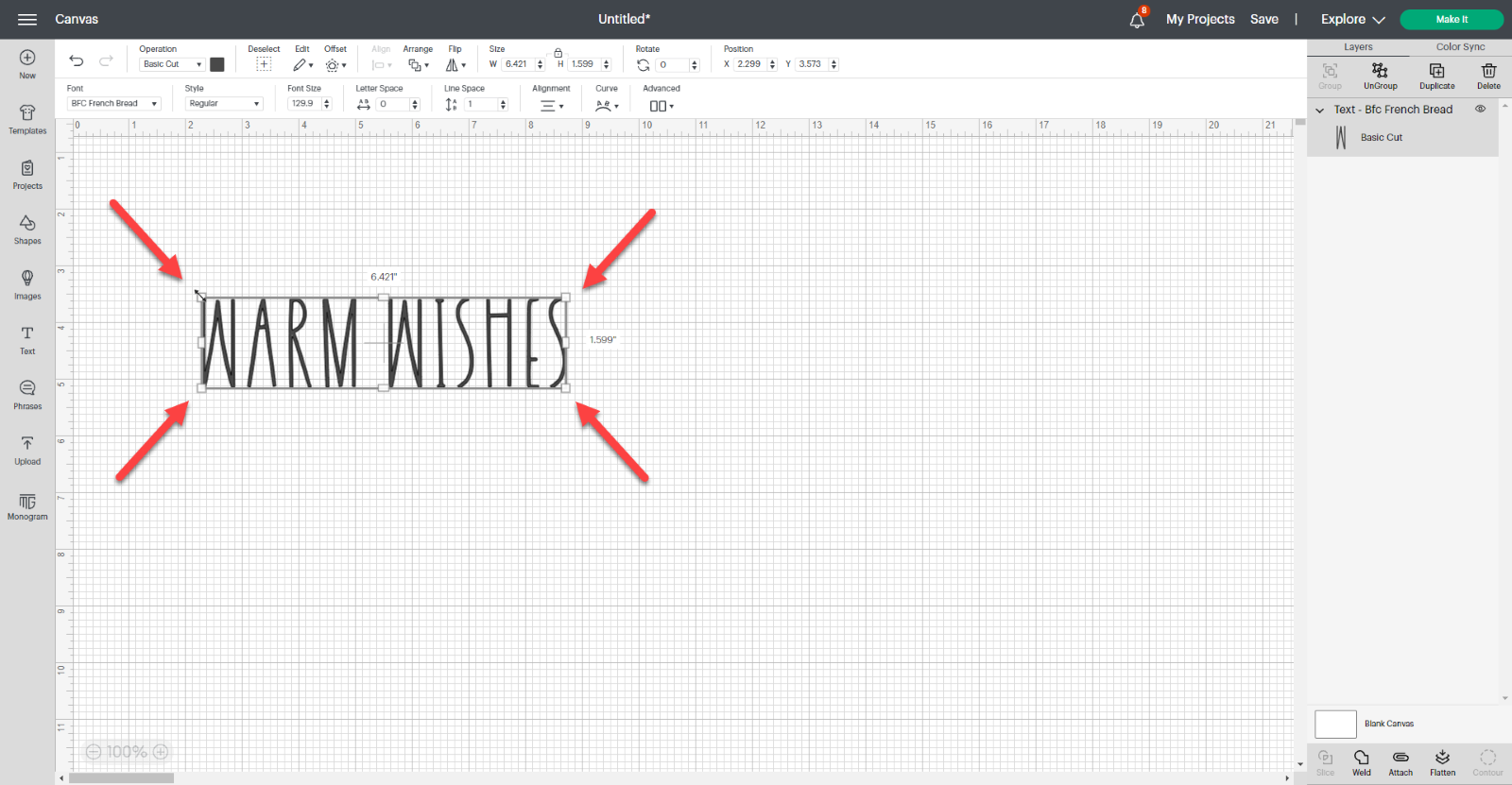 Edit toolbar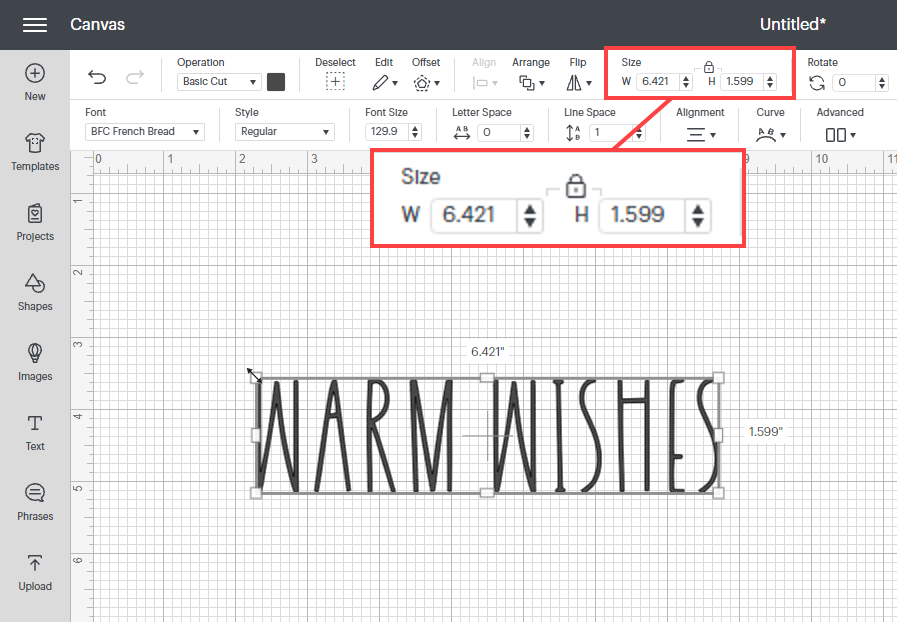 Resizing the text box
You can change the size of the box your text is in without changing your selected text size. Just click and drag the middle rectangular handles on the bounding box. Text is centered horizontally and vertically by default, but you can use the Alignment, Letter Space, and Line Space tools to adjust text position within the text box.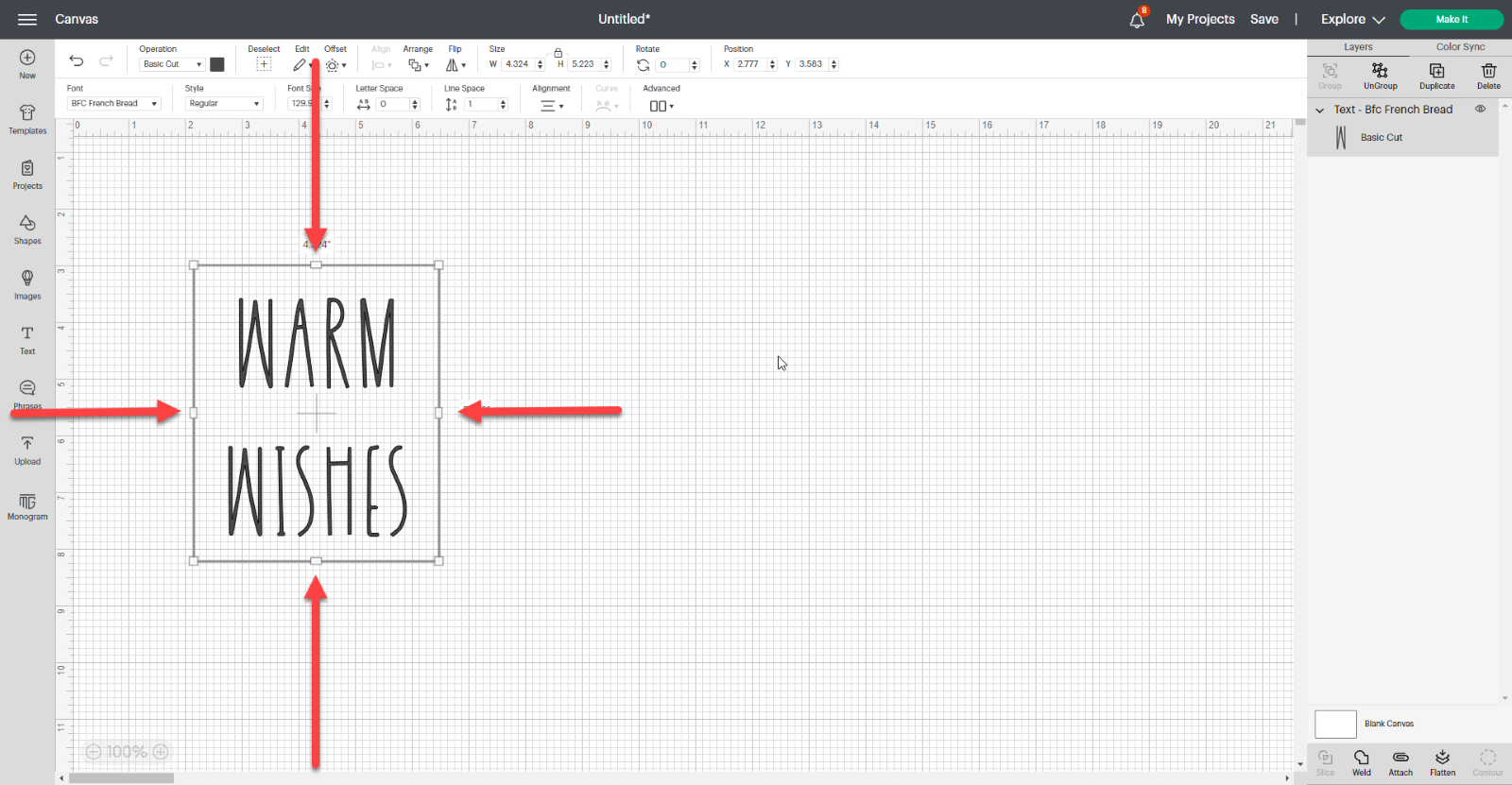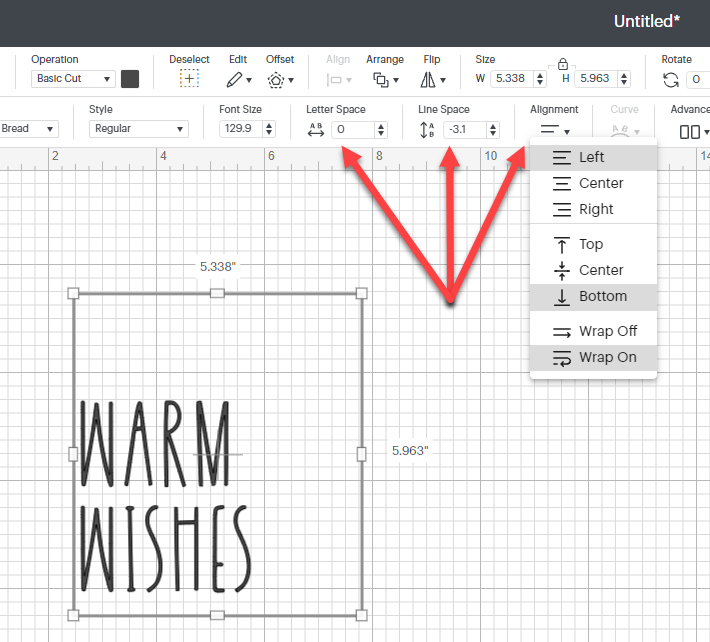 Text Wrap
By default, text is added to the Canvas in a single line. You can cause your text to wrap, or automatically flow to a new line based on the size of your text box – no line breaks required!
To push a word to another line (or pull a word back from the previous line) simply click and drag a middle rectangular handle on the text box.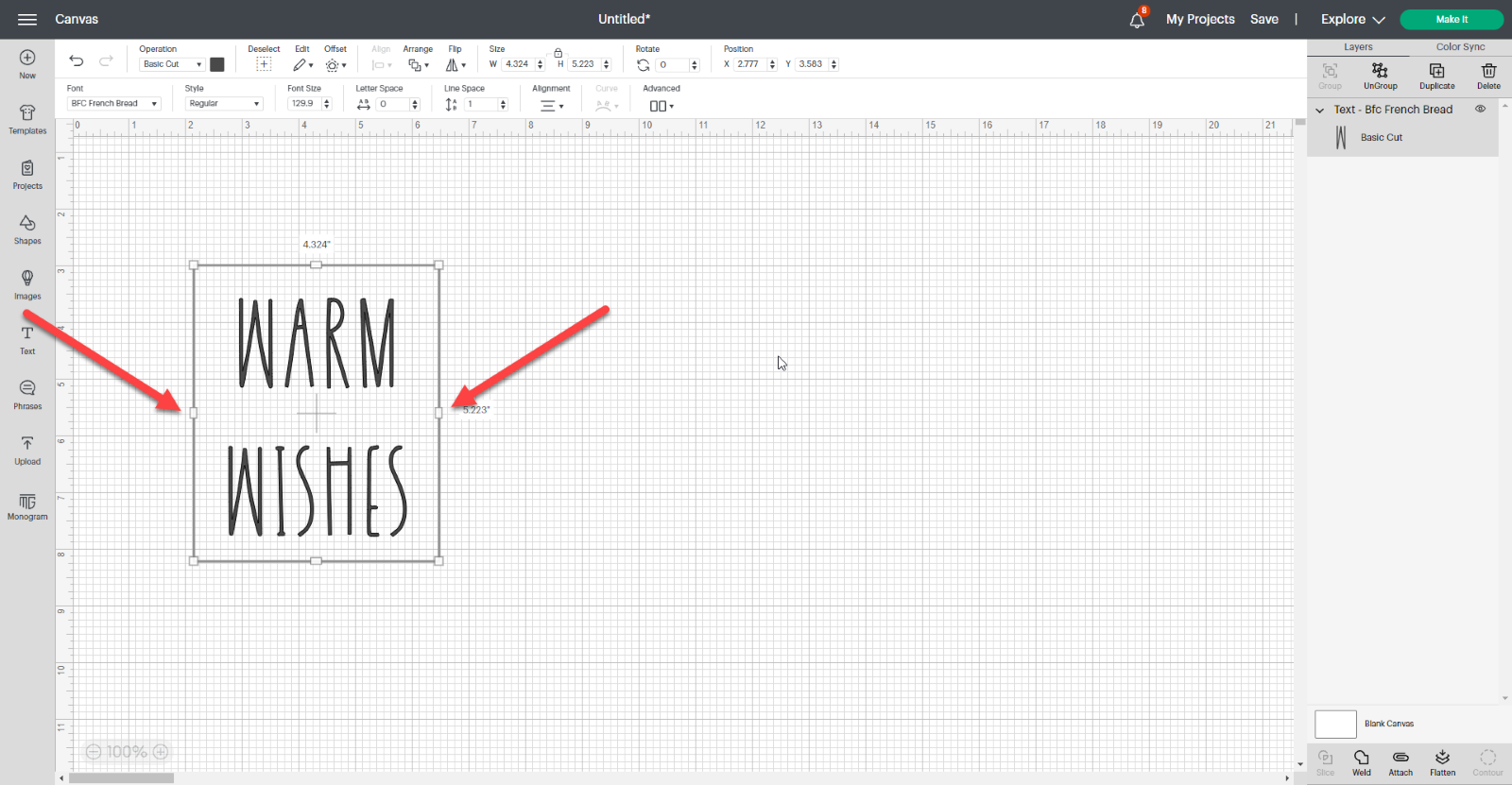 This puts your text box in Wrap mode. To exit Wrap mode, select Wrap Off in the Alignment menu.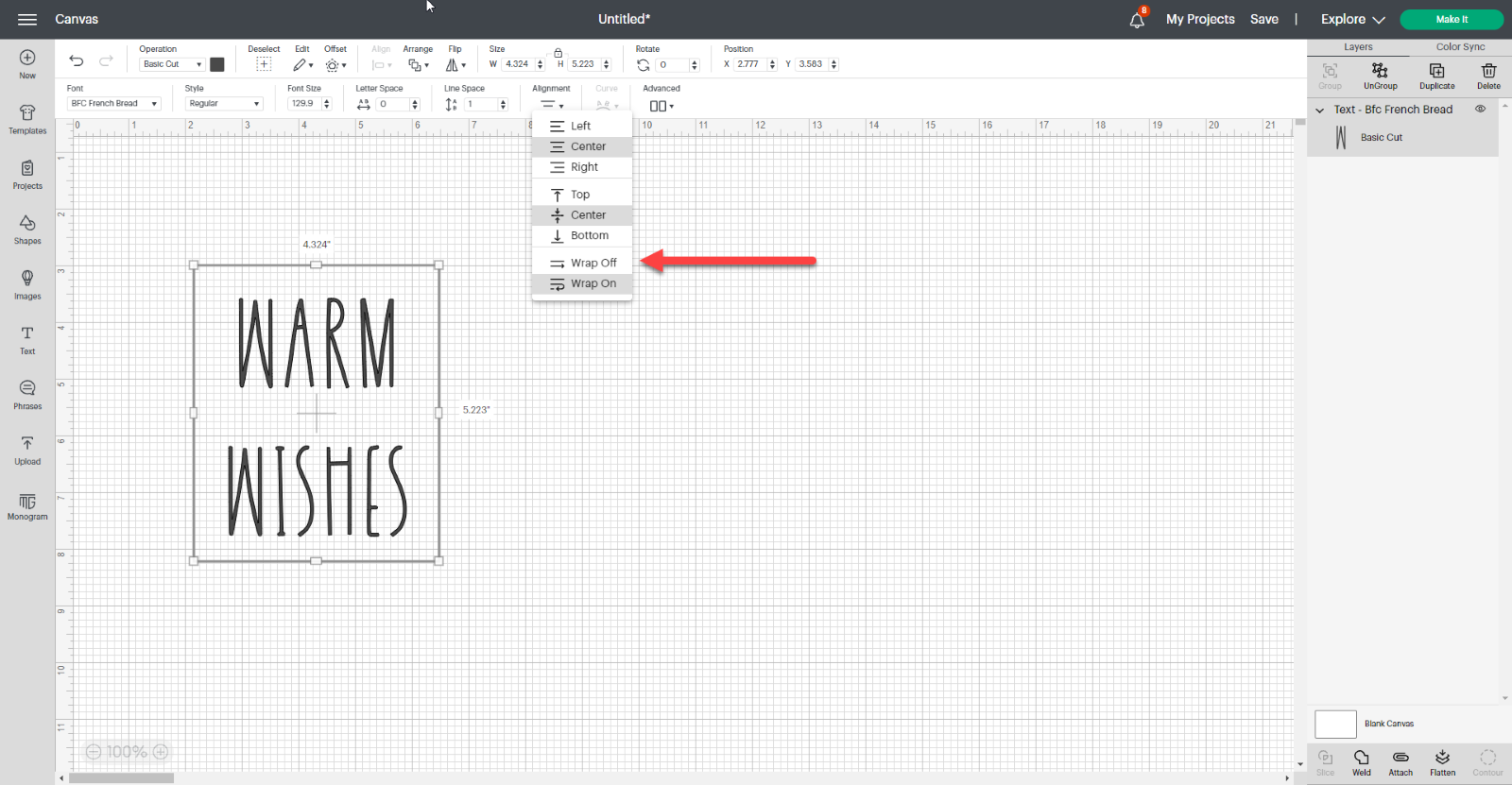 Note: When you turn Wrap off, any wrapped text will return to a single line.
Curving text
The Curve tool allows you to bend your text into a circular shape. Visit this help article to learn how to Curve text in Design Space.
Deleting text
Text can be deleted through the right-click menu (A), selecting Delete in the Layers panel (B), or using Backspace/Delete keys on the keyboard.