About Cricut Mug Press
Does the Cricut Mug Press work with any kind of mug? Why are the Cricut mug blanks better than any other blanks?
We designed Cricut Mug Press – and rigorously tested it with Cricut blanks – to ensure successful heat transfers, every time. Cricut Mugs, from shape to poly-coating formula, meet our standards for best transfer results.
Generic mugs labeled "sublimation compatible" are likely to work with Infusible Ink and Mug Press, but we cannot guarantee results with non-Cricut blanks. When using non-Cricut blanks, look for poly-coated, sublimation-compatible products that meet the below specifications:
Capacity of 11 – 16 oz (350 – 450 ml)
Straight-walled drinkware only; avoid curves and textures
Diameter between 3.2" - 3.4" (82 – 86 mm)
Maximum height of 4.72" (120 mm)
Important: Mug blanks must be fully inserted into the Mug Press so that they rest on the base heater. Do not allow mug to hover over the base heater while you close the lever as this may result in damage to the Mug Press.
Are there any safety concerns I should be aware of with Cricut Mug Press?
Cricut Mug Press is designed for use in well-ventilated indoor household environment and complies with requirements of accepted product safety standards. Cricut Mug Press applies heat and pressure for Infusible Ink transfers on Cricut Mug blanks. As such, users will be near heat plates. Use extreme caution as machine operates at high temperatures that can cause burns. Users may also experience odors and vapors associated with heat appliances and the Infusible Ink transfer process. Use only in well-ventilated areas, and follow all steps found in the interactive Cricut Heat Guide to transfer your designs.
See additional safety information here.
Where does Cricut Mug Press get hot?
Cricut Mug Press heat plate gets very hot during use. Heat plate is positioned in the left side of the press, and closes around mugs when lever is pressed. Use extreme caution. Machine operates at high temperatures that can cause burns.
In the diagram below:
Progress lights
Power button
Lever
Heating elements

Why does Cricut Mug Press smell?
Cricut Mug Press flexible heat plate is made of materials than can present an odor when heating. Odor will diminish with subsequent use but may not completely go away. Vapors from pressing Infusible Ink materials are also natural, as the process transforms Infusible Ink from a solid state to a gaseous state. Use Cricut Mug Press and Infusible Ink products in well-ventilated areas.
See additional safety information here.
Can I put my mouth where the ink is after the mug has been pressed?
Yes, after you have followed the instructions for pressing and revealing your design, and only once the mug is completely cool, can the mug be used for normal beverage consumption.
Why would I want to make a mug with Infusible Ink materials instead of vinyl or HTV?
When use with Cricut Mug Press, Infusible Ink products create vibrant, seamless designs that are dishwasher and microwave safe. HTV/iron-on and permanent vinyl results may peel, flake, and fade with washing over time.
How is Cricut Mug Press different from other mug presses on the market?
Cricut Mug Press makes it easy to make custom, quality mugs in minutes. The sleek, safety-conscious design features one-touch settings, just-right temperature control, and an auto-off feature for peace of mind. No manual adjustments needed!
Can I make mugs with Cricut EasyPress products?
The flexible heat plate in Cricut Mug Press is designed to transfer designs onto smooth, curved, ceramic Cricut mug blanks. Cricut EasyPress products have a flat, rigid heat plate which cannot safely secure a mug or apply even heat and pressure to a hard, curved surface.
What do the lights on Cricut Mug Press mean?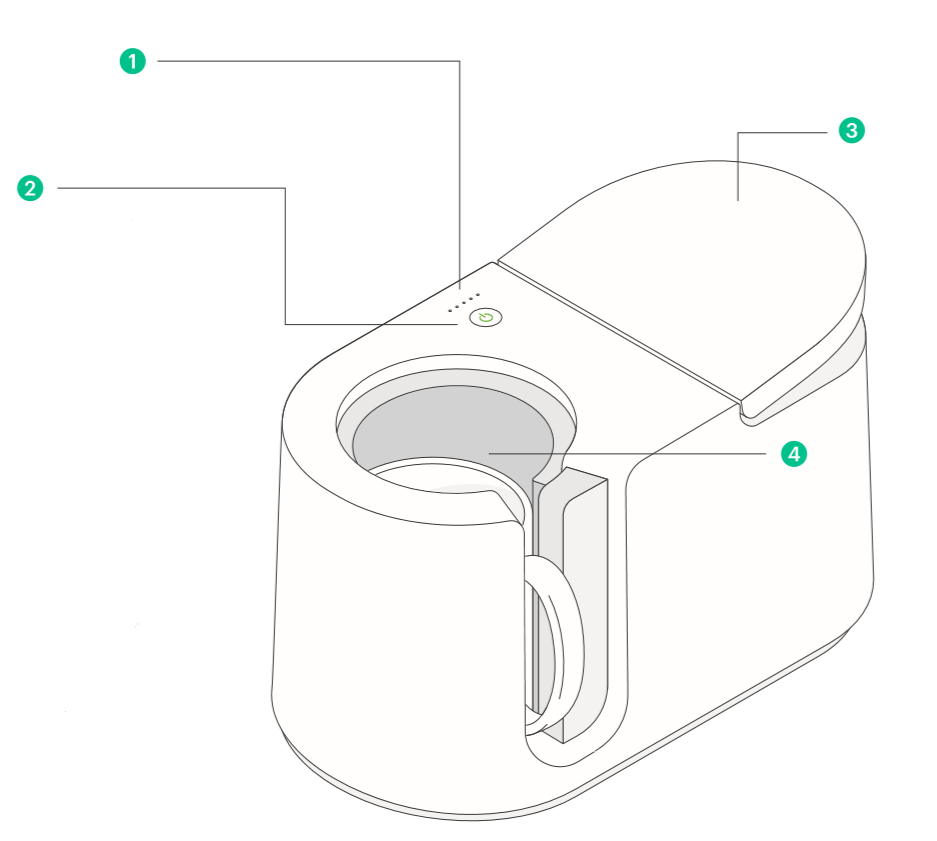 Progress lights – use to track transfer progress
Power button

No light – standby mode
Orange flashing – connect mode
Solid orange – warming up
Solid green – ready to use
Green flashing – auto-off in progress
Solid red – error detection. Learn more about Cricut Mug press error messages here.

Lever
Heating elements
Why can't I adjust my time or temperature settings on Cricut Mug Press like I can with Cricut EasyPress?
Cricut Mug Press does all of the work for you. We've optimized the process for seamless transfers, no adjustments needed.
How long does it take to press a mug?
The average press time is 6 minutes. Time may vary depending on room and mug temperature.
How do I activate Cricut Mug Press? Why should I activate it? How can I activate my product if I don't have a computer or USB port?
When your Cricut Mug Press arrives, activate your press on cricut.com/setup. Activation registers your press, ensures it has the latest firmware, and allows us to notify you when an update is available, so you press always has the best firmware.
You must activate Cricut Mug Press before first use. If you don't have a compatible computer with USB port, you will need to borrow a computer with the right port to activate your Cricut Mug Press.
I'm giving my product to a friend, but it's still registered to my account. What do I do? Do they need to re-activate it?
No need to re-activate Cricut Mug Press! We recommend they register the device to their Cricut account for firmware updates.
Does my Cricut Mug Press always need to be connected to my computer when I'm using it?
No. Cricut Mug Press only needs to be connected to a computer for activation and firmware updates.
Is Cricut Mug Press Bluetooth compatible?
Is Cricut mug Press good for someone who wants to sell mugs?
Yes, Cricut Mug Press produces pro-quality mugs for every occasion.
What are the dimensions, weight, and wattage of Cricut Mug Press?
| | |
| --- | --- |
| Length | 11" (27.49 cm) |
| Width | 6.2" (15.74 cm) |
| Height | 6.5" (16.51 cm) |
| Wattage — North America | 500 W |
| Wattage — Australia, New Zealand, UK, Europe, Singapore, Malaysia | 520 W |
How do I find the serial number of my Cricut Mug Press?
The serial number is laser etched on the bottom of the press.
Making Mugs with Cricut Mug Press
Why do I need 3 layers of butcher paper with an Infusible Ink marker design? Why don't I need butcher paper when doing a transfer sheet project?
Extra layers of butcher paper prevent Infusible Ink marker designs from bleeding onto the heat plate. We've designed Infusible Ink transfer sheets with a liner to prevent bleeding and protect the heat plate.
Why is my butcher / transfer sheet paper yellow / burnt?
To prevent yellowing or scorching of butcher paper, trim away excess before inserting into Cricut Mug Press.
How long will it take for a mug to cool?
Before handling, allow mug to cool for 15-30 minutes.
How do I avoid undesirable transfers?
Four simple tips to remember when transferring with your Cricut Mug Press:
Remove debris with lint-roller prior to pressing
Ensure design is completely flat against mug surface and within recommended measured areas
Use a Cricut Mug blank or sublimation compatible mug
Trim any excess transfer sheet liner close to your design
How close can I put my design to the mug handle? What happens if I put it too close?
Designs can span up to 0.5" (12.7 mm) from the mug handle. Designing beyond that can result in fading and discoloration.
What are the max design dimensions for Cricut mugs?
12 oz (340 ml) mug blank
Max length – 8.75 in (22.52 cm)
Max height – 3.79 in (9.62 cm)
15 oz (444 ml) mug blank
Max length – 8.75 in (22.52 cm)
Max height – 4.25 in (10.8 cm)
For best results, make sure to leave at least 0.5 in (1.27 cm) between the edge of your design and the mug handle.
For instructions on how to make a custom mug design, see cricut.com/make-mugs.
Are there any areas where I cannot put designs when using the Mug Press?
Cricut Mug Press is designed for transfers on the outer cylindrical surface of your mug, up to 0.5" (1.27 cm) from the handle. It is not designed for transfers onto the handle, inside, or bottom of the mug.