Made from genuine wood, these versatile, ultra-slim, and spectacularly smooth veneers are ready for your making! Cut and craft each sheet into enviable, one-of-a-kind projects that showcase the wood's natural color and grain – from gorgeous gift boxes to mid-century lamp shades, home decor and more. For use with Cricut Maker or Cricut Explore family machines and Deep-Point Blade.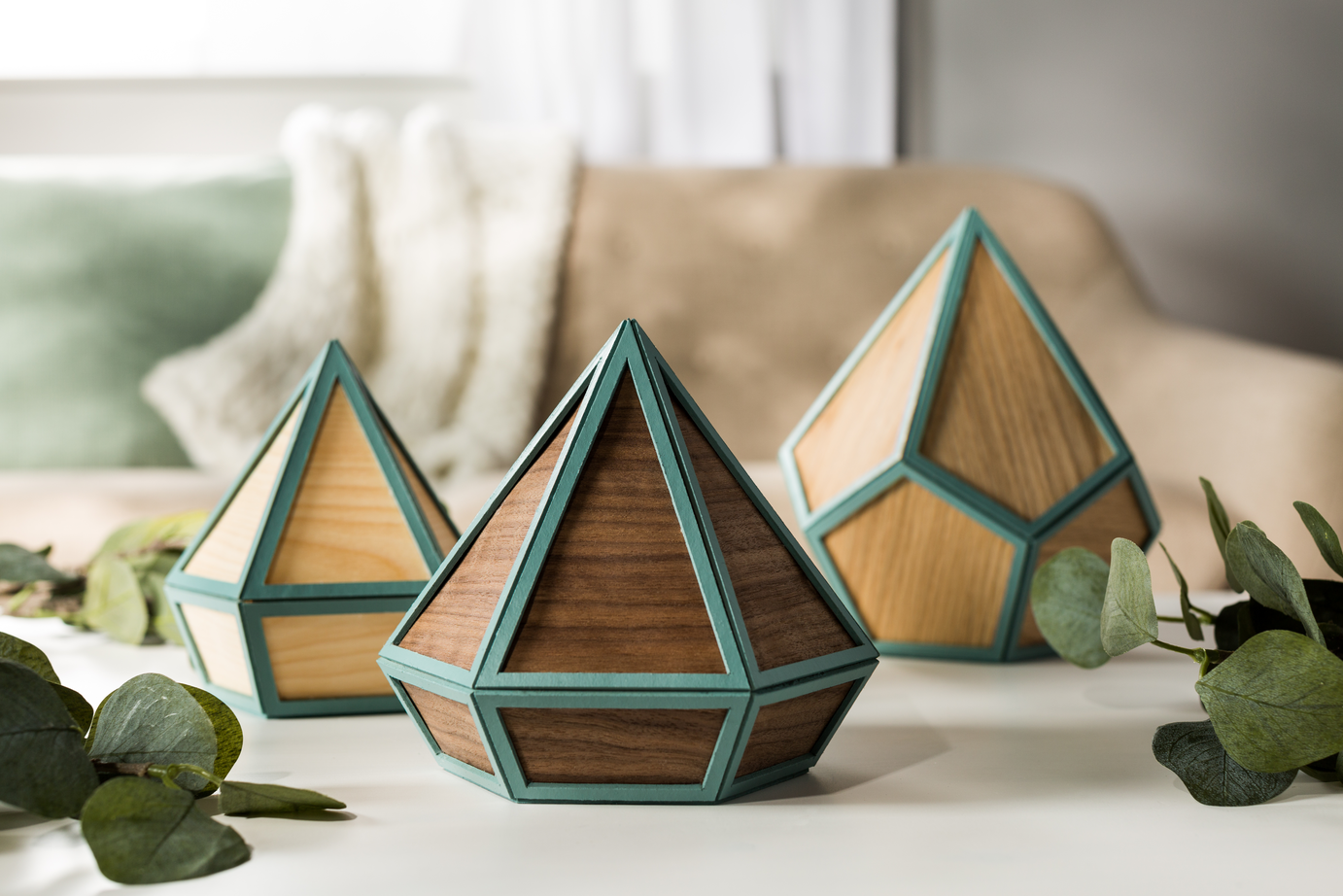 What is a wood veneer?
A veneer is a very thin sheet of material that is applied to another surface for protection or decoration. Cricut Natural Wood Veneers are are thin slices of real wood, but we've made them 2-ply for durability and versatility; they can be stained, painted, molded, glued, and layered.
Recommended supplies
Cricut Natural Wood Veneer
Painter's Tape
*Spatula not recommended.
Know before you go
Because veneer is made from real wood, grain patterns and color will vary, making every project unique.
Veneer thickness will vary between species. Walnut is thicker than Maple, which is thicker than Cherry.
Characteristics of the veneer will vary between species. Walnut veneers, for example, have a more obvious grain and should be handled with extra care.
Avoid bending veneers along the grain as this will cause it to crack or break.
For best results use tweezers rather than a spatula to remove veneers from mat.
Cutting Cricut Natural Wood Veneers with a Cricut machine
Place wood veneer onto StrongGrip Mat with the grain of the veneer running along the length of the mat.
Use a brayer to create a firm bond between the veneer and the mat adhesive.
Tape all four edges of the material to the mat within 1" of the corners (blue painter's tape is recommended).
Select and size the image(s) you want to cut.
Select Browse All Materials. Then, select Natural Wood Veneer from the list of materials.

If you are using a Cricut Explore, ensure that the Smart Set Dial is set to Custom.

Ensure Deep-Point blade and housing are installed in Clamp B.
Load mat into the machine and press the flashing Go button.
Note: Always do a test cut to verify the setting before attempting your project. Natural wood veneers may vary in thickness slightly from one sheet to another. Based on your test cut results, you may wish to select More or Less pressure on the cut screen.
Important: The machine will make several passes on each cut path. Watch as the machine is cutting; if any pieces come off of the mat during cutting, pause the cut and remove the loose piece with the broad tip tweezers, then press Go to resume the cut.
Removing veneers from the mat
Gently bend mat slightly away from veneer against the grain.
Work tweezers gently under veneer cut until it pops off of the mat. Take care with corners and be aware of grain of the wood as you work the pieces off of the mat.
Tips
Mold veneer cuts into shapes or curves using a technique called wet forming.

Soak the cut in water to make it more flexible.
Bend the cut into desired shape, taking care not to crack the wood along the grain.
Brace or prop the cut while drying to so it holds the desired shape.

While veneers are real wood, they are delicate. They are intended to add a decorative finish to your project rather than provide structure.
Keep dry and lay flat when storing.