Cricut Autopress tour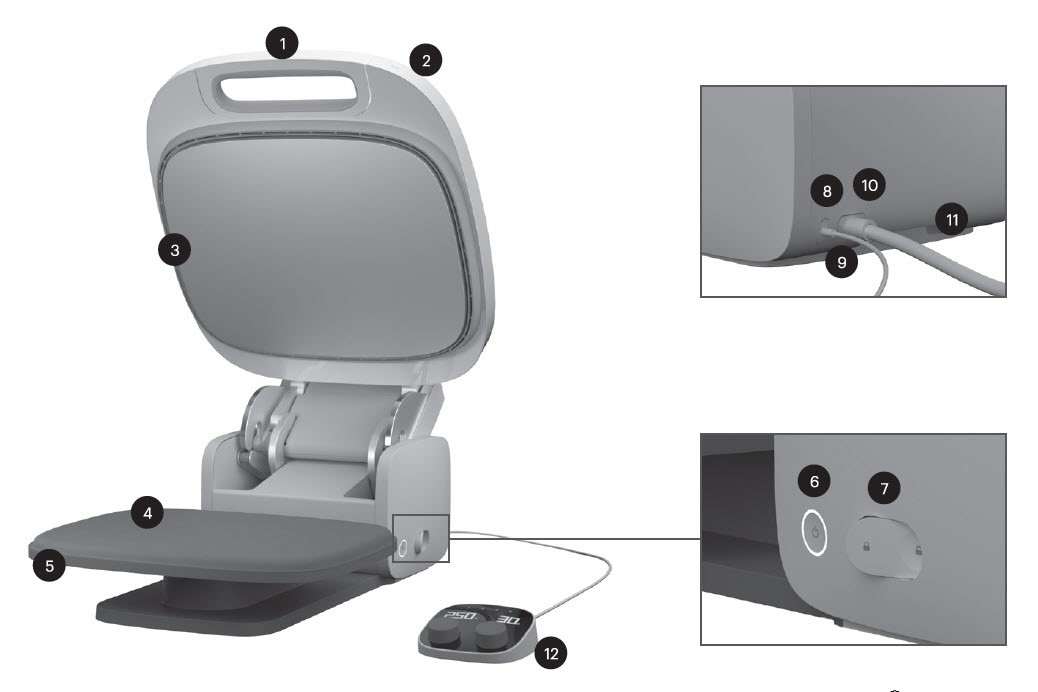 Handle
Indicator lights

Orange = heating up
Green = ready to use
Red = machine locked or Control Pod disconnected

Heat plate – CAUTION: Gets very hot during use
Pressing Mat
Platen
Power Button
Lock/Unlock
USB Port (on back of machine)
USB Cable
Power Port (on back of machine)
Power Cord
Control Pod
Features
Cricut Autopress incorporates several thoughtful safety and automatic features that take the physical effort and guesswork out of pressure, time, and temperature, so you can press with confidence and peace of mind.
Handle
Zero Effort operation – it takes just two fingers to close the machine and engage the motors that apply perfect pressure. When the pressing cycle is complete, the press auto-releases so you don't have to worry about overheating your project.
Auto-adjusts to materials up to 2 in (5cm) thick. Simply lower the heat plate until it touches your project, then press down on the handle – Cricut Autopress automatically adjusts to apply the perfect pressure to thicker blanks.
Sturdy steel construction of Cricut Autopress means you can lift the press with the handle on the front of the machine and the handhold at the back of the machine. Two-person lifting is recommended.
Heat Plate
Large 15 in x 12 in (38 cm x 30 cm) advanced heat plate with ceramic-coated surface
Self-opening heat plate – when transfer is complete the press opens automatically
Extra-wide open position – allows you plenty of room to see and safely position your project on the platen
Precise, even heating from 170° - 400°F (75° - 205°C)
Fast heat-up times, reaching 400°F (205°C) in under 8 minutes
Control Pod (Included with Cricut Autopress)
Dial controls help you set the time and temperature for your project
Presets – comes programmed with quick access to frequently used settings, which are easily reprogrammed to your desired settings

To reset to factory settings, gently press a paperclip into the hole on the bottom of the pod

Switch from °F to °C with the toggle on the bottom of the Control Pod
Heat Guide
Our convenient online Heat Guide provides recommended time and temperature settings, as well as stacking, pressing, and care instructions for a variety of heat transfer projects with Cricut Autopress.
Lights
LEDs on the handle give you at-a-glance info on the status of Cricut Autopress:
Orange = press is heating or cooling to get to target temperature
Green = ready to use
Red = press is locked, or control pod is not connected
Pressing Mat (Included with Cricut Autopress)
The unique patent-pending pressing mat contains all the layers found in Cricut EasyPress mats with an added layer of silicon to keep the mat from slipping.
The unique design eliminates the need for pressing pillows.
The pressing mat allows a user to align the project off the Cricut Autopress platen, and then, move the mat and project to the machine all at once for perfectly positioned images.
Additional Safety
Internal fan assists airflow to cool handle and other plastics while press is in use
Auto-off – turns off automatically after 13 minutes of inactivity
UL/ULC/CE/Weee/RoHS Compliant
Storing
Lock/Unlock switch keeps Cricut Autopress closed when not in use
If needed, Cricut Autopress may be stored upright (resting on back of machine, locked, with handle pointing up). Remove power cord and USB cable before storing in this manner.
Warranty
1 year from date of purchase (may vary based on country requirements)