Cricut BrightPad comes with a USB-A to micro B charging cable, but does not come with a power adapter. The micro B end connects to Cricut BrightPad, while the USB-A end is inserted into the port on a compatible adapter. However, not all adapters meet the requirements for safe use with Cricut BrightPad.
Cricut BrightPad charging cable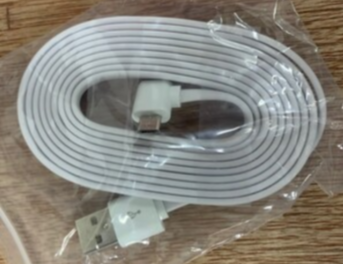 Use the guidelines below to find a safe and compatible power adapter for your Cricut BrightPad.
Note: This article applies to Cricut BrightPad only. Cricut BrightPad Go has different power requirements and comes with its own power adapter.
Requirements
A safe, compatible adapter should have:
An output rating that does not exceed 5 volts of direct current (5V DC) and 1 Amp
A safety listing or certification by a recognized safety certification body, such as UL, CSA, ETL, and TUV
Important: Use only power adapters that are compatible with the outlet standards and supply ratings used in the country of purchase.
What to avoid:
Adapters that have multiple Output ratings, any of which exceed 5V DC and 1 Amp.
How do I know if an adapter has the right ratings?
To identify what adapters are safe to use with Cricut BrightPad, check the power requirements and ratings printed or etched on the adapter.
In example 1 below, the Output rating is 5V and 1 Amp – this is a compatible adapter. In example 2 below, you can see that the adapter has multiple output ratings, both of which exceed the 1 Amp requirement, so this would not be suitable for use with Cricut BrightPad.
1. Compatible adapter 2. Incompatible adapter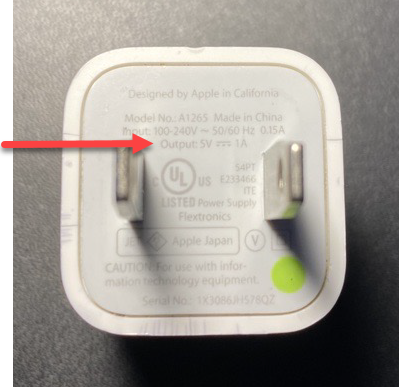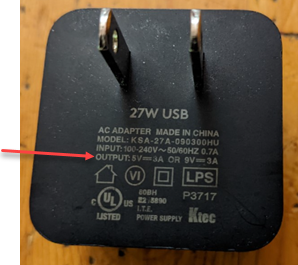 What brand of adapter do you recommend?
We don't have a recommendation for a particular brand, just be sure that the adapter Output does not exceed 5V DC and 1 Amp.
Tip: Adapters packaged with iPhone 11 and earlier typically have the correct power rating. iPhone 11 Pro and newer likely are not compatible. Always check the adapter Output rating before using it to power Cricut BrightPad.