For flawless iron-on transfers, use a Cricut EasyPress Mat with your Cricut EasyPress.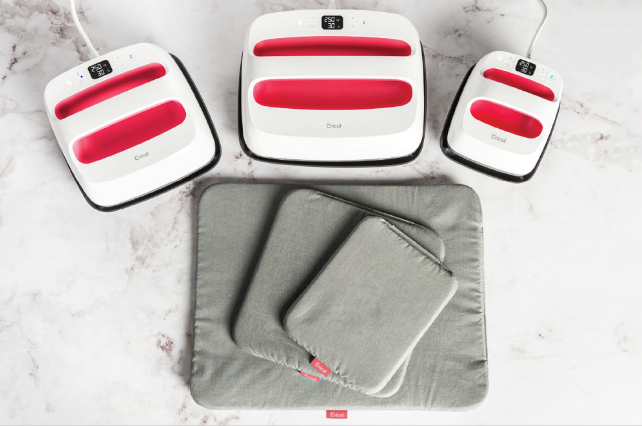 Cricut EasyPress mat features
Innovative construction eliminates moisture and directs heat to the iron-on design
Shields your work surface from damaging heat and moisture
Also perfect for pressing sewing projects
Available in three convenient sizes: 

8" x 10" (20 cm x 25 cm)
12" x 12" (30.5 cm x 30.5 cm)
20" x 16" (50.5 cm x 40.5 cm)
Things to remember
Mat is one-sided. Ensure the correct side is facing up while pressing. This allows the mat layers to function as designed for flawless transfers: 

Durable, heat-resistant cover. 
Felt layer wicks moisture
Foil layer reflects heat back to iron-on design, helping to protect work surface
Silicone sponge layer insulates work surface and functions as a pressing pillow which can absorb seams, such as those on funsies, zippers, etc.
Bottom layer acts as a protective barrier 

Use a mat that is larger than the heat plate of your Cricut EasyPress. You can use the largest mat with any EasyPress size, but you shouldn't use the small Cricut EasyPress Mat with the medium or large Cricut EasyPress. Doing so may prevent the application of even heat that is needed for successful transfers.
Cricut EasyPress temperature settings for use with the Cricut EasyPress Mat are different than settings for use with other pressing surfaces. Use our Interactive Quick Reference Guide for more information.
Mat is very flexible; not stiff.
Keep Cricut EasyPress Mat dry. If necessary, wipe clean with a damp cloth.
The surface of the mat will get very hot during use.
Store flat for best results.
Mat is not microwave-safe.
Mat is intended for momentary application of heat as per instructions. Heat left unattended may cause damage or discoloration.
Do I have to use a Cricut EasyPress Mat with my Cricut EasyPress?
Using a Cricut EasyPress Mat is ideal, but it's easy enough to create the right iron-on environment for your iron-on transfers using common household items.
What to use
A firm, flat surface for your foundation. A waist-high table is perfect.

Great examples you have at home: craft table, kitchen table, wood table, butcher block, marble or wood cutting board.

A suitable protective mat/layer. The layer on top of your foundation must be heat-resistant, have good insulation properties, and wick moisture.

The ideal example you likely have at home: ​a fluffy cotton bath towel with even texture (no embedded patterns). Fold the towel so it's about 3 inches thick. When using a folded towel, make sure to check our Interactive Quick Reference Guide for precise time and temperature recommendations.
What to avoid
Ironing board. It has an uneven surface and it's not solid or sturdy enough to allow for gentle pressure.

Corrugated cardboard. When pressed, cardboard creates an uneven surface.

Silicone baking mats/aluminum foil. Neither provides insulation and both get dangerously hot.